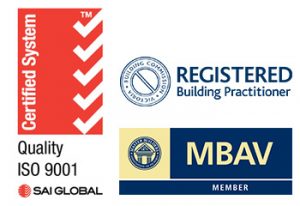 Elite Building & Maintenance was established in 1999 and has since gained a reputation as a specialist provider of building and maintenance services to various industry sectors nationally.
We have developed and strengthened our relationships with our clients by successfully achieving the desired results through thorough and detailed planning, efficient systems and procedures and reliable resources.
An accreditation to International Standards ISO 9001:2000 is maintained and we foster a strong commitment to delivering quality services, with occupational health and safety, environmental and risk management in place, as well as focusing on all other areas of our business.
The senior management team at Elite have a wealth of skills and expertise to draw upon – A combined experience of over 35 years in providing a hands on approach to Building and Maintenance requirements for both commercial and residential projects.
Anthony Briganti holds a Bachelor of Engineering (Building) with Honours from the Victoria University of Technology and has a proven record in providing property maintenance and upgrade solutions to many well recognised commercial organisations.
Nat Patane has an established background in both commercial and residential projects having spent many years of his career in Property and Facilities Management. Nat also has experience in sales and marketing with extreme commitment to customer service and satisfaction.
COMPANY INFORMATION
Entity Name: Elite Building & Maintenance Pty Ltd
ACN: 089 038 728
ABN: 13 089 038 728
Address: 437 St Georges Road, Thornbury, Vic. 3071
Phone: 03 9484 1199
Fax: 03 9484 5411
Email: office@eliteproperty.com.au
Website: www.eliteproperty.com.au
CERTIFICATIONS / COMPLIANCES:
Quality Management System Certified to ISO 9001:2008 – SAI Global QEC20418
INSURANCE COVER
WorkCover Accident Compensation Insurance
Public Liability Insurance $20,000,000.00
Project Insurance $1,000,000.00
BUILDING LICENCES
Registered Building Practitioner with the Victorian Building Authority
Registered Building Contractor with Victorian Department of Transport, Construction Supplier Register – Reg. No. 901211.
Silver Member Master Builders Association of Victoria